The (Un)official Lifeweb of Susan Merrill
---
"People say that what we're all seeking is the meaning of life... I think what we're really seeking is the experience of being alive."
Rudyard Kipling
---
As I have been working on these pages, I was surprised at how often new experiences related to previous experiences I had written about. It finally occured to me that this wasn't a home page, it was the web of my life.
Everyone's lifeweb has the threads that make it up. Mine included:
Working at the Jet Propulsion Laboratory in Pasadena, California
Participating in Sports/Hobbies
Traveling
and the little carbon-based lifeforms that live with me.
---
Life in Pasadena, California
I originally created this web page while we were at work watching the first images being transmitted from Mars Pathfinder in 1997. What a great way to celebrate the 4th of July! I work at JPL, one of the NASA centers and many of my friends worked on the Mars Pathfinder Project. I worked on it for a while myself, but after most of the exciting and hectic days were over. (See if you can locate Dilbert and Dogbert, rocks I named on Mars.)

Imagine the excitement we felt as Sojourner rolled off the lander and made history! Now it seems so long ago, but I will never forget how we were all at work over a 4-day holiday intently watching the T.V. monitors. It was one of those life defining moments, when you realize that you are truly fortunate to be at a certain place at a certain time. Working at JPL has provided many such moments.

Please take the time to check out the JPL Website. We do a lot of interesting work that spans the solar system. And remember that much of this is funded by American taxpayers.

JPL is just one of the wonderful things about living in Pasadena. Personally, the reason I choose to live in Pasadena is that it has a long history - both as a city and for me. I remember going to Beadle's Cafeteria with my great Aunt as a child. Special memories that can never be relived. I remember watching the Rose Parade and visiting the floats when the parade was over. I remember my great Aunt driving me past Caltech and telling me that "maybe they will let girls into Caltech when you are ready to go to college". A lot has changed in the 30 years since then. (And yes, Caltech now admits women.)

Pasadena points of interest include:
Rose Parade - Working on the floats is good fun
Rose Bowl - Where I run
Arroyo Seco - Great dayhikes
Route 66 - America as it used to be
---
Carbon-Based Lifeforms
There are two other carbon-based lifeforms living at my house. Most people call them pets (or pests depending upon what they have been doing recently). My newest edition, Kona, is a siamese mix kitten. She has that kitten energy level that no other adult lifeform can keep up with. She's very friendly and loves attacking my older cat, Comet. (I find this amusing as Comet spent much of his early life terrorizing my previous cat, Bonnie.) Kona was born during the summer so she is about 6 months old now. She's going to be a small cat but she sure is cute!
After taking Kona to the vet for her shots, I discovered that she has Feline Leukemia. I was devastated since she is so young and so charming. At present she is living in the house but has to be isolated from Comet. She misses playing with him. She spends her time shuttling between my house and my Mom's house when I am away. She's an indoor cat and needs to be isolated due to her medical condition. So far she's quite happy to tear up things inside and doesn't seem to mind being an indoor cat. So far...
My older cat, Comet, is a hyperactive 6 year old tabby. He now spends his time terrorizing the lizards in the yard. In spite of having more energy than most of the household, Comet is a lot of fun. He likes a "room with a view" so the vehicles are quite popular with him. He's not as fascinated with Kona as she is with him. He's content to spend his days outside and then come inside at night.
Interests
Well, I've told you a little about what I do, but that doesn't tell you much about who I am. Perhaps you can learn more by reading about my interests.

As I try to decide what someone would be interested in knowing about me, I realize that a timeline of accomplishments might be the best approach. So, if you are interested, here goes:
1975-1980 Attended CSUNorthridge
1976 - Visited the Soviet Union and Eastern Europe
1985 - Six Months in Australia
1986 - Started working at JPL
1987 - Europe Tour
1989 - Bought my house in Pasadena
1990 - Canoe Trip on the Verde River, March 26-29
1990 - Canoe Trip on the Carson River, May 3-6
1990 - Canoe Trip on the American River, May 25-28
1990 - Canoed the Colorado River thru the Grand Canyon, September 4-22
1991 - My Quick Trip Around the World
1993 - Southwest Trip
1996 - Santa Fe Bicycle Tour, September
1997 - L.A. XII, My First Marathon, March
1997 - Florida Safari Bicycle Tour
1997 - Dual Sport Riding
1997 - MOOSA and Lighthouse Bicycle Tours
1997 - Trinidad, CO to Albuquerque, NM Self-Contained Bicycle Trip, September
1998 - L.A. XIII, March
1998 - Florida Safari Bicycle Tour, April
1998 - Day Trip on the Withlacoochee, April
1998 - Ride to the Islands Bicycle Tour (in progress)
1998 - Southern Utah Parks Bicycle Tour, September
1998 - Exploring Utah, September
1998 - Havasu Trip, November
1999 - Death Valley Dual Sport Trips
1999 - Navajo National Monument Backpack Trip, June
1999 - Kayak Down the Black Canyon, September
1999 - Utah Southern Parks Ride, September
1999 - San Juan Float Trip, October
1999 - White Rim Mountain Bike Trip, October
1999 - New Mexico Park Adventure, December
2000 - Organ Pipe Campout, April
2000 - Cycle Louisiana Main Street, May
2000 - Bicycling the Natchez Trace, May
2000 - Navajo National Monument Backpack Trip, May
2000 - Mojave Death Race 2000, June
2000 - Grand Canyon Field Institute Course, August
2000 - American River Raft Trip, August
2000 - White Rim Mountain Bike Trip, September
2000 - Montezuma Creek, Utah, October
2001 - Cross Country Skiing, Yosemite, February
2001 - Raft Guide Course, Kern River, March
2001 - Black Canyon Kayak Trip, Colorado River, April
2001 - Flintknapping Class, April
Even though the above list seems like a lot of activities, instead of working what I would *REALLY* like to be doing is:
Talking and drinking a good cup of coffee
Writing a book
And thousands of things I haven't discovered yet
---
Sports/Hobbies
Modes of transportation have always been important to me. I first learned to ride a motorcycle when I was 12. My older brother had a Hodaka and I'd take it out and ride through the lemon orchards. From there my interests moved on to other vehicles - unicycles, bicycles, cars and trucks. If it had wheels, I wanted to learn to drive it.
I learned the fundamentals of auto mechanics while a poor college student. I spent a lot of time fixing things on my used cars. Now I have the luxury of paying someone else to do the work - and then checking to see if they actually did what they were paid to do! I still work on my bicycles and do some work on the motored vehicles that clutter my garage.
I've been an avid bicycle tourist for several years. I prefer to go on organized trips (so someone else can carry my gear) and have met a terrific group of people from all over the world. My travels have taken me to Florida, New Mexico, Colorado, Maine, Canada, Scotland and most recently Mississippi and Louisiana. I enjoy working my way across the countryside by the efforts of my legs and lungs.
Living in California means that there is a lot of time for outdoor pursuits. Though I am not a great athlete, I do enjoy participating in sports. My interests are wide ranging and currently the list includes:
Corporate Events - (There are some wild events out there...)
Hiking
---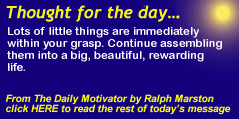 ---
Comments? Suggestions? Send me email: susan.merrill@jpl.nasa.gov Last update: 25 May, 2001